The Collateral
University Place Apartments is a mixed-use student housing and commercial complex located at the edge of the University of Missouri campus, just 5 blocks from downtown Columbia. It has 168 student apartments and 13 commercial spaces and was voted "Overall Best Value" in a recent independent evaluation of all student housing options in Columbia. It is one of the hottest student housing options around campus due to its quality and location and is always 100% occupied with a waiting list for the subsequent semester. It also has the University as a major commercial tenant, leasing both office space and computer labs for student and faculty convenience. Apartment Website
The Request
Borrowers were seeking to secure a non-recourse loan with competitive terms, an advanced rate lock, and a flexible prepayment structure for the cash out refinance of University Place Apartments. The purpose of the loan was to pay off the current loan balance, pull out additional cash equity from the property, and secure a 10 year mortgage.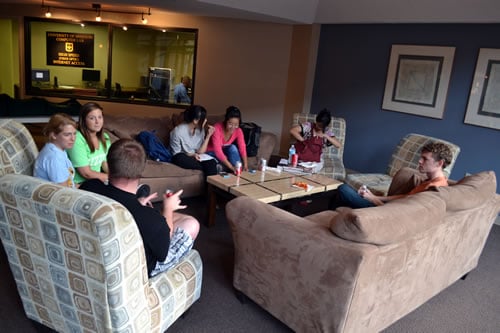 University Place Apartments - Resident Students - University of MO.
"[I] felt confident through the process that things were under control, that my interests were being protected... was always a pleasure to talk to and work with all the way through a successful closing..."
The Result
We were able to meet ALL of the Borrower's requirements with an aggressive and flexible non-recourse conventional product.