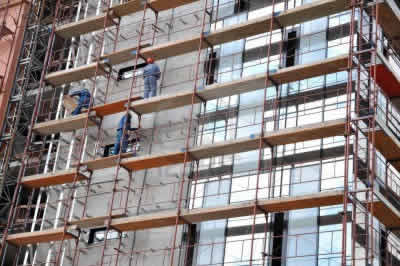 Commercial Construction Loans Nationwide
CLD offers conventional construction loans for commercial real estate properties and SBA-504 companion mortgages for transactions that are approved via the Small Business Administration that require a construction phase. If you have any questions about our programs please contact one of our loan officers.
---
Loan Type
*Property Type
Min Loan Amount
Max LTV
Term Length
Amortization
Rates
Conventional Construction

A

,

I/W

,

M/H

,

MU

,

O

,

R

,

SS

$1,000,000
70%
12-36 Months
Interest-Only
SBA Construction

I/W

,

M/H

,

MU

,

O

,

R

$3,000,000
80%
12-36 Months
Interest-Only
*A = Apartment I/W = Industrial/Warehouse M/H = Medical/Healthcare MU = Mixed Use O = Office R = Retail SS= Self-Storage
LTV: Up to 70% loan to cost or loan to value (whichever one is lower)
Coverage Area:
Nationwide (primary and secondary markets preferred).
Loan Amount:
$1MM to $100MM.
Experience:
Prior construction experience highly preferred.
Property Types:
Most property types considered.
Occupancy:
Owner occupied and investment properties.
Rate:
Starting rate a Prime + 1 (floor rate might be required)
Experience:
Prior construction experience highly preferred.
Amortization:
Interest only during construction.
Reserve account:
A reserve account will be used to make monthly payments on behalf of Borrower until construction phase is finished and property is ready for take-out financing.
Builder:
Must be approved by lender. Builders get paid in arrears.
90% LTV Commercial Construction Loans (with SBA 504 Program)
Construction Loans - Interest Rate:
Multi-use property - commercial construction loans: Prime + 1%, with a 7% floor
Special-Use property - commercial construction loans: Prime + 1.5- 2.0%, with a 7% floor
Commercial Construction Loans Fee:
1.0% Minimum
Eligible Properties for Commercial Construction Loans:
Multi-use properties and currently acceptable special use properties will be considered if the credit is sufficiently strong to justify the transaction. Must be located in an identifiable MSA. The project must be located in an area suitable for the intended use. Construction costs must be within acceptable norms (no unusual types of construction or elaborate improvements will be allowed)
Borrower / Eligible Operating Company Requirements:
Borrower / operating company must have generated a DCR of = 1.25 for the proposed debt over the past two years or have acceptable trends if a proposed expansion. Four years of operating history or equivalent ownership experience profitability, retained earnings / equity, and leverage, must all be equal to, or better than, the specific industry�s average. Borrower / guarantors must demonstrate strong credit characteristics including cash flow and liquidity adequate to pay for possible cost overruns of 10-15% of hard costs after equity injection. Combined outside net worth of the owners should be approximately 35% of the proposed loan amount FICO score of = 700 for all owners (with more than 20% ownership interest). Ineligible if borrower, OC or principal has previously filed for protection under US bankruptcy law. Note: Borrowers that do not meet the above criteria may be considered for higher LTV financing by providing additional collateral / contingency or will be limited to a lower LTV
Fund Control / Bond / Third Party Guaranty:
Lender will select the fund control company. In addition to fund control, if lender exceeds 65% and construction costs exceed $500,000 (or 25% of total project cost) lender requires a third party performance guaranty.
Permanent Loan:
Lender�s current permanent loan program remains in effect. Approval by the SBA will be required prior to the lender.
Underwriting Requirements:
In addition to the normal term loan underwriting requirements a Contractor Qualification statement acceptable to lender, detailed cost breakdown, construction contract, plans and specifications, and building permits are required.
Fee Summary:
The lender's Construction Loan Fee is 1% of the construction loan amount, loan Documentation Fee is $1,800. The Initial Project Review, Fund Control and Guaranty are quoted on a case by case basis.
Commercial Construction Loans Size:
$750,000 - $10,000,000
Maximum LTVs (per SBA 504 guidelines):
90% for multi-use properties (excludes start-up businesses)
85% for special use properties (multi-use start up)
80% for special use properties that are start-up businesses