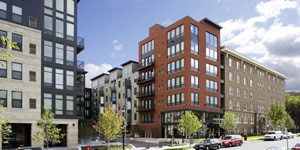 Freddie Mac Fixed Rate Apartment Loans
The Freddie Mac fixed rate program provides streamlined and flexible financing for apartment and multifamily properties. This program gives the borrower a variety of options to suit their loan characteristics.
---
Fixed-Rate Loan Options and Requirements
Eligible Products
Multifamily housing, purpose-built student housing, seniors housing, cooperative housing, and Targeted Affordable Housing.
Loan Size
$5 million+
Term
5- to 10-year terms
Max Amort
30 years
Min DSCR DSCR Calculator
1.25x
Amortization Calculations
Actual/360 standard; 30/360 available
Lockout Period
2 years
Prepayment
Yield maintenance until securitized followed by 2-year lockout; defeasance thereafter. No prepayment premium for final 90 days. If loan is not securitized within first year, then yield maintenance applies for the life of the loan. Yield maintenance without defeasance is available for securitized loans for an additional cost.
Tax & Insurance Escrow
Typically Required
Replacement Reserve Deposit
Typically Required
Recourse
Non-recourse except for standard carve-out provisions
Prepayment Options
Yield maintenance and other graduated prepayment options
Supplemental Financing
Yes, subject to requirements specified in the Loan Agreement
Lock Options
Early rate-lock option available for varying durations, typically ranging from 60 to 120 days until Freddie Mac purchase.
Freddie Mac Program Plus