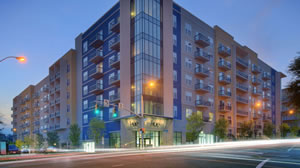 FHA Risk-Sharing Program - HUD Section 542(c) Mortgages
Section 542(c) allows HUD and state and local housing finance agencies to provide risk-sharing arangements to assist those agencies to provide more credit and insurance for commercial housing loans.
---
Section 542(c) Purpose
Section 542(c) allows credit improvement for multifamily housing projects whose loans are processed, underwritten, serviced, and disposed of by HFAs. HUD and HFAs share in the risk of the mortgage. The program serves as a pilot to assess the feasibility of risk-sharing partnerships between HUD and qualified State and local HFAs in providing affordable housing.
Eligible Uses
State and local housing finance agencies participating in this program may underwrite and originate affordable housing loans. This program provides full FHA loan insurance to improve HFA bonds to investment grade.
To be eligible the HFA must: 1) carry the designation of "top tier" or its equivalent as evaluated by Standard & Poor's or another nationally recognized rating agency; or (2) receive an overall rating of "A" for the HFA for its general obligation bonds from a nationally recognized rating agency; and (3) otherwise demonstrate its capacity as a sound, well-managed agency that is experienced in financing multifamily housing; and (4) have at least 5 years experience in multifamily underwriting; and (5) be a HUD-approved multifamily mortgagee in good standing.
Eligible Borrowers
Eligible borrowers include public entities, investors, developers, builders, and private non-profit corporations or associations may apply to a qualified QPE and/or its lender.
FHA Apartment Loans - HUD Multifamily Mortgages