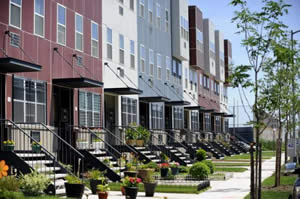 FHA Mortgages For Rental & Cooperative Housing: HUD Section 221(d)(4)
Section 221 insures loans for the construction and rehabilitation of multifamily rental properties as well as cooperative housing for moderate income families, the handicapped, and the elderly. Single Room Occupancy can also be insured under this program.
---
Section 221(d)(4) Purpose
Section 221(d)(4) assists private industry in the rehabilitation or construction of cooperative and rental housing project for moderate-income and displaced families by making capital more readily available. The program allows for long-term mortgages that can be financed with Government National Mortgage Association (GNMA) Mortgage Backed Securities.
Eligible Uses
Insured mortgages may be used to finance rental or cooperative housing with 5 or more units.
Eligible Borrowers
Eligible mortgagors include public, profit-motivated sponsors, limited distribution, nonprofit cooperatives, builder-seller, investor-sponsor, and general mortgagors.
FHA Apartment Loans - HUD Multifamily Mortgages