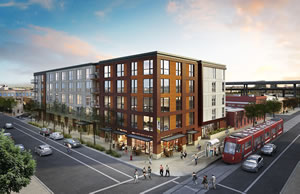 Fannie Mae Arm 7-6 Apartment Loans
Fannie Mae's Multifamily Mortgage Business offers a 7-year variable-rate financing option with an embedded cap, and an option to convert to fixed rate. This program provides low-cost financing, convertible to fixed-rate financing, and the maximum interest rate is set at rate lock. Eligible property types include conventional, affordable housing, seniors housing, student housing, and manufactured housing properties. This program does loans for acquisition or refinance.
---
Overview
Term
7 years
Amortization
Up to 30 years
Max LTV
80%
Min DSCR DSCR Calculator
- 1.00x at the maximum lifetime interest rate.
- Mortgage loan amount shall not exceed that of a fixed rate loan of similar terms.
Interest Rate
Adjusts based the underlying index and is equal to the index plus a margin
Interest Rate Cap
- Maximum monthly interest rate adjustment of 1% up or down.
- Maximum lifetime interest rate ceiling established at rate lock.
Interest Rate Floor
The margin, which is the sum of the investor spread, the guaranty fee, and the servicing fee.
Accrual
Actual/360
Index
1-month LIBOR.
Rate Lock
30 day commitments.
Conversion to Fixed Rate
Subject to the terms of the loan documents, the loan may be converted to a fixed-rate loan on any rate change date beginning on the first day of the second loan year and ending on the first day of the sixth loan year.
- No prepayment premium is charged at the time that the Mortgage Loan converts.
- Conversion requires minimal re-underwriting; lender determines that the current NOI can support the new fixed rate.
- No increase in the loan amount; loan may be eligible for a Supplemental loan.
- No change in guaranty or servicing fees when the loan converts.
Prepayment
One-year lock-out followed by a 1% prepayment premium thereafter. No prepayment premium during the last 3 months of the loan term.
FNMA Multifamily Mortgages