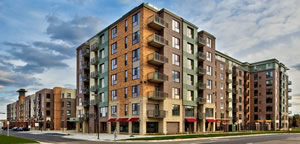 Fannie Mae Choice Refinance Program Apartment Loans
Fannie Mae's Multifamily Mortgage Business offers a streamlined refinance process with more limited documentation requirements for DUS loans in good standing. This program provides flexible financing, lower costs, and a fast execution. Eligible properties must be stabilized and must have satisfactory ratings on the most recent property inspection.
---
Overview
Property
- Property Management: documentation requirements may be waived.
- Property Location and Certification: Borrower may certify that there has been no change in zoning affecting the property in lieu of full underwriting. However, if property has been rezoned the lender must address the change.
Third-Party Reports
- New Phase I Environmental Assessment may not be required.
- New appraisal required.
- New physical needs assessment required.
- New title insurance policy required.
Borrower Analysis
- New underwriting certification may be given in lieu of full underwriting. However, if the organization has changed the lender must review necessary documents to confirm that the organization meets the requirements.
- For the borrower, key principal and principal the Lender will report ACheck results, obtain and review financial statements and meet the FICO requirements.
Existing Prepayment Premiums
- Existing minimum 1 percent prepayment premium may be reduced or waived in certain circumstances.
- Prepayment premium due may be paid from the proceeds of the new loan.
FNMA Multifamily Mortgages